---
In a series of shocking "demand" emails containing screen captures showing lists of Natural News articles, Apple has demanded Natural News stop publishing articles critical of abortions or Satanism, threatening to block the Natural News app from all Apple devices if Apple's demands are not met.
This is the first time that a dominant tech company has overtly come out in defense of Satanism while threatening to censor a prominent publisher that exposes the evils of Satanic influence. Many people will see this as yet more proof that Apple, along with other tech giants, is literally aligned with Satan and is exploiting its power of censorship to silence those who criticize Satanism.
With Democrats now openly pushing infanticide and the legalization of the serial killing of infants, tech giants like Apple are serving as the censorship "speech police" to silence all criticism of the gruesome practice. In threatening Natural News over our coverage of infanticide and abortions, Apple is staking out the position of being pro-infanticide, and anyone who dares to speak up for innocent children is deemed by Apple to be engaged in "hate speech."
According to apple, opposing the murder of children is now "hate speech"
Yes, you read that correctly: Speaking out to stop the mass murder of newborns is now "hate speech" according to the deranged, mentally ill Leftists who run Apple, Twitter, Google, YouTube, Facebook and Snapchat. Techno-fascism has now become a movement of mass infanticide that demands the silencing of those who oppose it. "Hate speech" means standing up for the innocent and demanding an end to the murder of children.
Here's one of the many screen shots sent to Natural News by Apple, along with a warning that these stories would result in our app being blocked: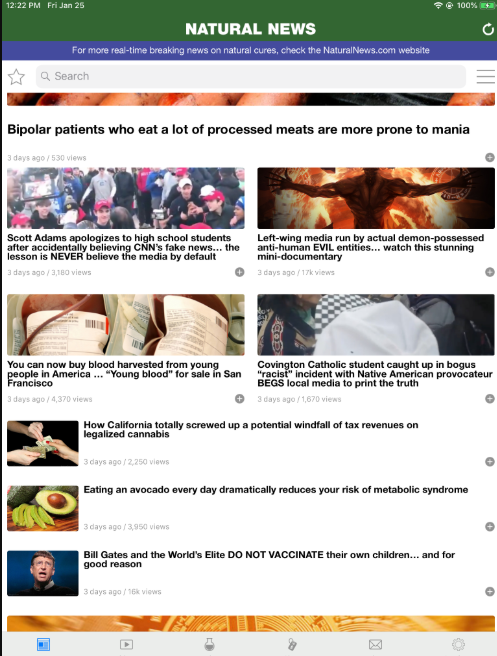 Apple claims all these articles are "objectionable content" that people might find "offensive."

Some of the headlines named by Apple as "objectionable" include these important reports on Satanism, vampirism and blood harvesting from children, vaccines, cannabis, freedom of speech, the failed war on drugs, anti-Semitism and much more:
Left-wing media run by actual demon-possessed anti-human EVIL entities… watch this stunning mini-documentary
You can now buy blood harvested from young people in America … "Young blood" for sale in San Francisco
Covington Catholic student caught up in bogus "racist" incident with Native American provocateur BEGS local media to print the truth
Bill Gates and the World's Elite DO NOT VACCINATE their own children… and for good reason
How California totally screwed up a potential windfall of tax revenues on legalized cannabis
America's "War on Drugs" declared a total failure as flow of deadly drugs across the open border continues to worsen
Mandatory vaccination is something that Hitler would have happily pushed as compatible with the Third Reich
The Left is trying to destroy free-speech social media platform Gab following Pittsburgh synagogue shootings
Brighteon.com declares video platform no place for Jew haters and those who espouse violence against people of faith
Google Chrome browser gives "Critical Error" notice when you play Project Veritas videos EXPOSING crooked deep-state "Democratic" communists
Top 5 harmful health narratives the U.S. government and the chronic sick-care industrial complex will NEVER abandon
Racist New York Times was a holocaust denier, covered up mass genocide of Jews
Tech giants' censorship is an online ETHNIC CLEANSING campaign, equivalent to intellectual genocide
Here's another screen shot sent to Natural News by Apple, along with demands to remove all this content or face the consequences: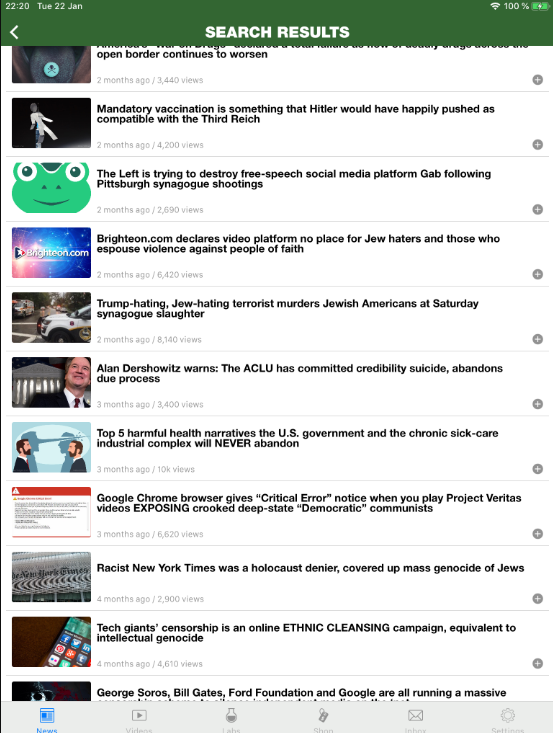 There are more screen shots, too, sent to Natural News by Apple, indicating that Apple is trolling all Natural News content and trying to find examples of stories to be "offended" about. Some of the other content the Apple says is "offensive" includes articles about abortion, infanticide, censorship, the LGBT agenda and illegal migration.
Fight back against Apple censorship
We must all fight back against Apple censorship. There are several ways you can help us do that. We need your help to take action now and let Apple know that we will not be silent in the face of techno-fascism and censorship:
First, fill out this Apple feedback form for the iPhone, and tell them you don't want Apple censoring the Natural News app:
https://www.apple.com/feedback/iphone.html
You can also Tweet to the official Apple account (assuming you haven't yet been banned by Twitter, another evil tech giant). The official accounts of interest include:
@Apple
@AppStore
@tim_cook
@AppleSupport
When you tweet Apple, tell them to stop trying to control Natural News and stop censoring our app.
Finally, watch and share my full explanation here:
Like all the tech giants, Apple has been consumed by truly demonic forces and now demands the silencing of all those who oppose evil, murder or tyranny.