---
After receiving an ominous email from a New York Times journalist that stated "Twitter is likely to take enforcement action on Ms. Greene's account," Congresswoman Marjorie Taylor Greene has questioned whether the tech giant and mainstream media outlet are coordinating on news stories about account suspensions.
(Article by Tom Parker republished from ReclaimTheNet.org)
In the email, the reported said that the New York Times is "looking at" one of Greene's tweets and that Greene's account would likely face enforcement action for "coronavirus misinformation."
They added that the New York Times had been totting up the total strikes on Greene's Twitter account and informed her that she now has "one more strike to go before potentially being permanently suspended from the platform."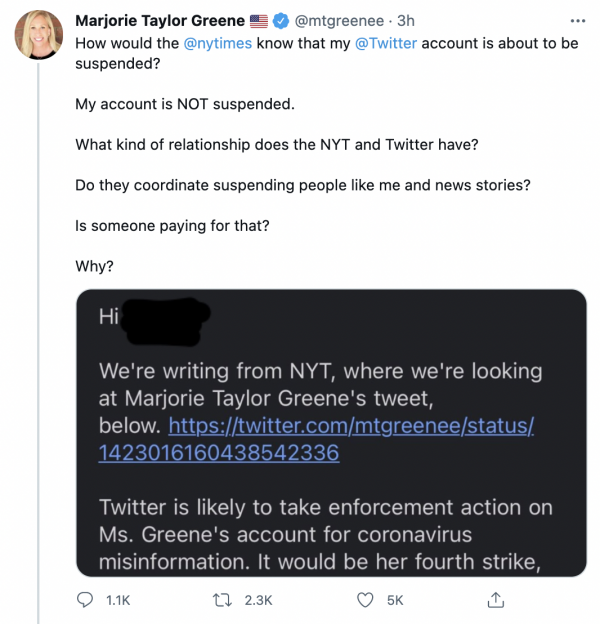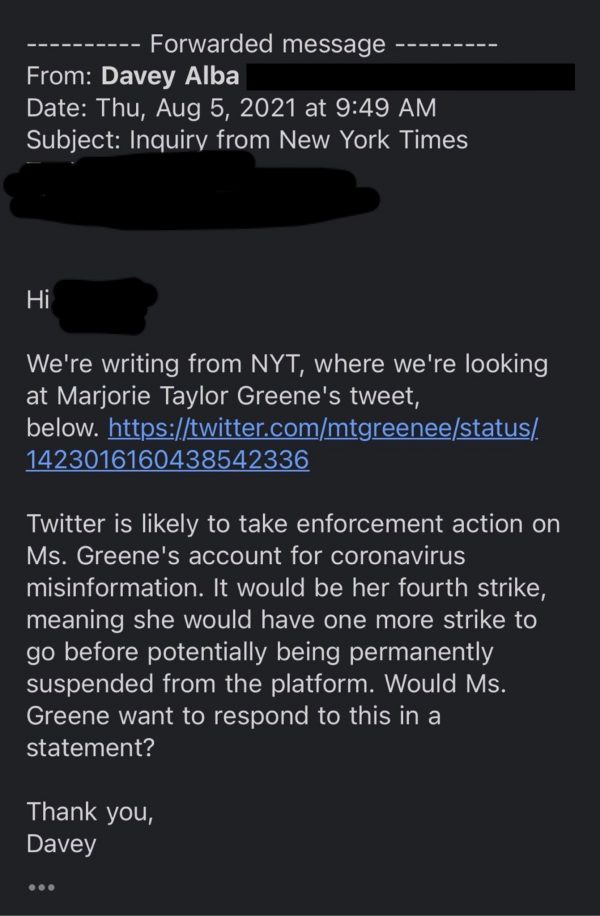 In the tweet that the New York Times flagged for alleged coronavirus misinformation, Greene called for an end to vaccine mandates and said she had "talked to multiple women who say they miscarried healthy pregnancies after taking the #COVID19 vaccine…not only miscarriages, but also reporting blood clots and heavy & irregular periods after taking the Experimental Use Covid vaccine."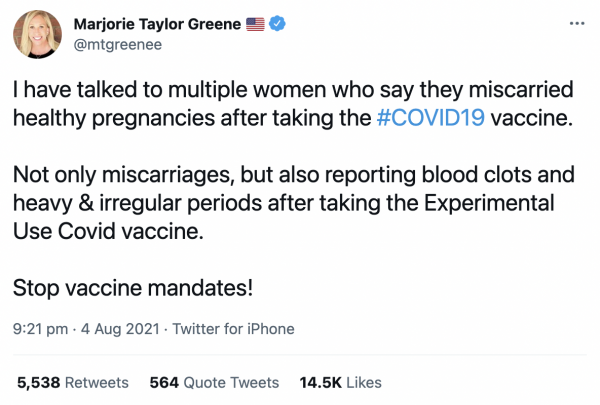 While the phenomenon of content being censored and accounts being suspended by Big Tech after mainstream media complaints is becoming increasingly frequent, Greene found it odd that the NYT had suggested her account would likely face enforcement action before it had actually happened.
"How would the @nytimes know that my @Twitter account is about to be suspended?" Greene tweeted. "My account is NOT suspended. What kind of relationship does the NYT and Twitter have? Do they coordinate suspending people like me and news stories? Is someone paying for that? Why?"
This New York Times flagging of Greene's tweet comes just a couple of weeks after she was locked out of her account for 12 hours after she said COVID isn't dangerous for those who aren't obese and who are under 65. She has been censored by Twitter multiple times, both before and after she was elected to Congress.
Greene is one of several public figures and brands to be accused of spreading "misinformation" or "false" information by the New York Times.
The New York Times previously claimed that satire site The Babylon Bee "frequently trafficked in misinformation" before it walked back the claims and issued a correction after being threatened with legal action.
The New York Times is also facing a defamation lawsuit from investigative reporting outlet Project Veritas after it described Project Veritas reporting as "false" and "deceptive." In a recent attempt to get the lawsuit dismissed, the New York Times argued that these descriptions were "unverifiable expressions of opinion."
As Babylon Bee CEO Seth Dillon noted when his site was branded as misinformation by the New York Times, these types of accusations from influential media outlets increase the risk of Big Tech taking enforcement action against those who are targeted.
Read more at: ReclaimTheNet.org and Conspiracy.news.